Curere Concentrate
$94.95
3x More Potent Than Classic Curere Formula
High potency skincare formula

3x more saffron & sandalwood oil than regular Curere

Skin health & anti-aging defense
Description
Curere Concentrated Gel contains 3 times more Kashmiri saffron oil and sandalwood oil than the original formula!
The result is an opulent, richly fragrant gel with a light orange hue that reflects the higher levels of crocin – the potent antioxidant that gives saffron its color. You'll feel a pleasant, flushing sensation as the concentrated gel dries and begins to smooth and tighten your skin. Many customers report improved skin tone and texture in as little as one week of daily use.
This 100% natural, highly-concentrated plant extract penetrates deeply into the skin and activates stem cells below the surface to awaken the growth of new tissue. It contains all the essential nutrients skin cells need to regenerate plus antioxidants that reduce inflammation, which allows for optimal nutrient uptake.
Contains 2oz (60mL) in a glass jar, approximately 1 month's supply.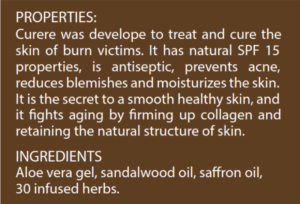 Additional information
| | |
| --- | --- |
| Weight | 5.2 oz |
| Dimensions | 3 × 3 × 3 in |