Vagus
$84.95
Post-Childbirth & Pelvic Support Formula
Optimized nutrition for new mothers

Pelvic muscle and female organ support

Helps support strong muscle tissue
Description
A woman's pelvic floor is her innermost feminine "core." This crucial group of muscles and ligaments provide support for her uterus, bowel and bladder. But just like any other muscle, the pelvic floor can get weakened over time. After childbirth or with the onset of menopause women can experience vaginal tissue loosening or loss. Women must be aware and take care of their pelvic core and interior tissues in order to keep them, healthy and strong for life. That's why we created Vagus.
Vagus has a combination of Tellicherry bark tree (Holarrhena antidysenterica) seed extract plus natural magnesium from cilantro leaf. The Tellicherry bark tree was traditionally used in India for promoting conception & toning up vaginal tissue after childbirth. It contains conessine which scientists have suggested may prevent muscle weakening and muscle cell death.1,2 Magnesium is an extremely important nutrient for women's health and energy. Magnesium insufficiency is very common and low magnesium may reduce insulin-like growth factor (IGF-1),3 which is an essential factor in long-term muscle growth and strength. We recommend Vagus, along with a healthy diet and regular kegels (pelvic contraction exercises) to support women's pelvic tissue health and muscle strength.4
Each bottle of Vagus contains 30 tablets. Order your bottle now!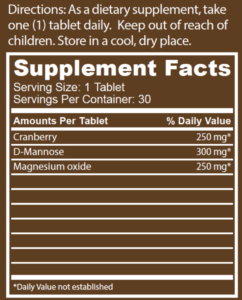 Additional information
| | |
| --- | --- |
| Weight | 4.54 oz |
| Dimensions | 2 × 2 × 3.25 in |